The use of Ayurvedic Cannabis medicines is on a rise in India. As sensitive as this topic is, ther's a lot that needs to be understood before we adopt it into our lives. One thing that needs particular attention is answering the question, How to get a medical cannabis prescription in India?
This article answers this question, in addition to iterating the difference between ayurvedic and medical cannabis and the medical conditions for which an ayurvedic cannabis prescription is valid.
How to Get Medical Cannabis Prescription in India?
Before we delve into the whys of a medical cannabis prescription, it is important to understand the meaning of ayurvedic cannabis in India and how it differs from medical cannabis.
What is Medical Cannabis?
The term medical cannabis refers to using one or more chemical compounds present in the cannabis plant to treat a medical condition in the human body. Compounds in the cannabis plant have therapeutic properties and can help provide relief from stress, anxiety, acute and chronic pain, psychological and inflammatory disorders as well as sexual dysfunctions.
The basis of using cannabis as a medicine lies in the similarities between the type of compounds present in cannabis and the compounds of the human body.
The human body produces cannabinoids to regulate important functions such as sleep, respiration, and neuronal activity. The same cannabinoids are present in the cannabis plant as well. Each cannabinoid has its respective properties and interacts with the human body accordingly, producing varied effects.
Medical cannabis is thus the use of cannabinoids to soothe the pain or discomfort associated with an illness.
What is Ayurvedic Cannabis?
Ayurveda is an ancient Indian system of health and medicine that places significant value on plant-based formulations. Cannabis is one of the many medicinal plants mentioned in Ayurveda.
These ancient texts list about 191 formulations that use cannabis as the main ingredient to cure certain medical ailments. Ayurvedic Cannabis is therefore the preparation of a cannabis-based medical formula in accordance with that mentioned in the Ayurveda.
How is ayurvedic cannabis different from medical cannabis?
Medical and ayurvedic cannabis are both terms referring to the use of cannabis for its therapeutic (precisely medicinal) properties. However, they differ with respect to their use, formulations, and preparation method.
Medical Cannabis
Medical cannabis is a more generalised term that refers to using the cannabis plant as a medicine. For example, in the US, a patient can walk into a medical cannabis dispensary and shop for cannabis products as medicine.
These products may be developed from one or more parts of cannabis (from buds, leaves, flowers, stalks, etc.) and one or more strains of cannabis (Indica, Sativa, hybrid, etc.).
It is also possible that they may not be products at all. Raw, dried cannabis consumption with the intent of treating a medical illness also classifies as medical cannabis.
Ayurvedic Cannabis
Ayurvedic cannabis, based on the ancient Indian medicine system, particularly uses the leaf of the cannabis plant to create either classical or proprietary formulations. That is to say, Ayurvedic Cannabis formulations:
are purely leaf-based extracts,
use cannabis in combination with other herbs, plants, or materials for the sake of curing or treating an illness.
These extracts may be developed into different types of products. The most common types of medical cannabis products available in India are:
Topicals: to use by external application on the skin, e.g. creams and balms.
Edibles: to be consumed directly, e.g. gummies, modak, chocolates.
Oils and Tinctures: to use through sublingual consumption i.e. by placing under the tongue. Some oils and tinctures may be ingested directly or by adding to food items.
Unlike in the US, there is no provision in India to buy or sell ingestible ayurvedic cannabis in dispensaries. These can be distributed under regulation with a valid prescription. Ayurvedic Cannabis products cannot be bought without a prescription.
What type of medical cannabis is available in India?
The present medical cannabis formulations in India are leaf-based Vijaya extracts. A Vijaya extract is an Ayurvedic form of cannabis oil. It is a full-spectrum extract i.e. it does not undergo excessive processing and contains all the chemical compounds originally present in the cannabis plant.
The scientific name for Vijaya extract is Cannabis Sativa Linn. Vijaya formulations can contain moderate to high amounts of THC, the compound responsible for the intoxicating effects of cannabis.
Why do I need a prescription for Ayurvedic (Vijaya) Cannabis Extracts?
The cannabis plant contains more than 500 different compounds—each with its respective properties that science is still identifying and learning about. While the medicinal benefits of cannabis are applaudable, there is no denying the euphoric effects it has on the human body.
Some cannabis formulations may contain delicate combinations of these compounds and thus need to be administered carefully. From the legal standpoint too, formulations with more than 0.3% THC, require a valid prescription because of their potential to cause intoxication and other side effects.
The requirement of a prescription for medical, ayurvedic, or Vijaya cannabis extracts is to prevent the abuse and/or misuse of cannabis medication. This need is quite similar to that of allopathic drugs such as antidepressants. Just as some antidepressants require a valid prescription, so do some medical cannabis formulations.
Who writes an Ayurvedic or Medical Cannabis prescription in India?
Any qualified doctor can write a prescription for medical cannabis products. However, in India, it is specialised Ayurvedic doctors who prescribe Ayurvedic (Vijaya) cannabis extracts to patients.
Who is eigible for an Ayurvedic or Medical Cannabis prescription?
Anyone can get a prescription for Ayurvedic or medical cannabis in India. Cannabis helps provide relief from a plethora of medical conditions. Any patient battling an illness that cannabis can prove helpful for can get a prescription.
Is Medical Cannabis legal in India?
Cannabis is a Schedule-E1 drug, regulated by the Ministry of AYUSH and the Excise Department of India. Cannabis-based medicines are therefore legal but regulated in India. To avoid the misuse and/or abuse of cannabis medicines, the requirement for a prescription has been mandated.
Where can I get an Ayurvedic or Medical Cannabis Prescription in India?
The regulations in India dictate that a prescription for a cannabis medicine must be issued offline, with the doctor and the patient having met in person. However, because of the COVID-19 pandemic, a Pandemic Act was passed in March 2020 allowing online consultations for herbal medicines.
Presently, the safest and quickest way to get a prescription for medical or ayurvedic cannabis in India is through dedicated online medical consultation platforms.
For which Conditions can I get a Medical Cannabis Prescription in India?
Doctors can administer medical cannabis in India for issues and illnesses related to: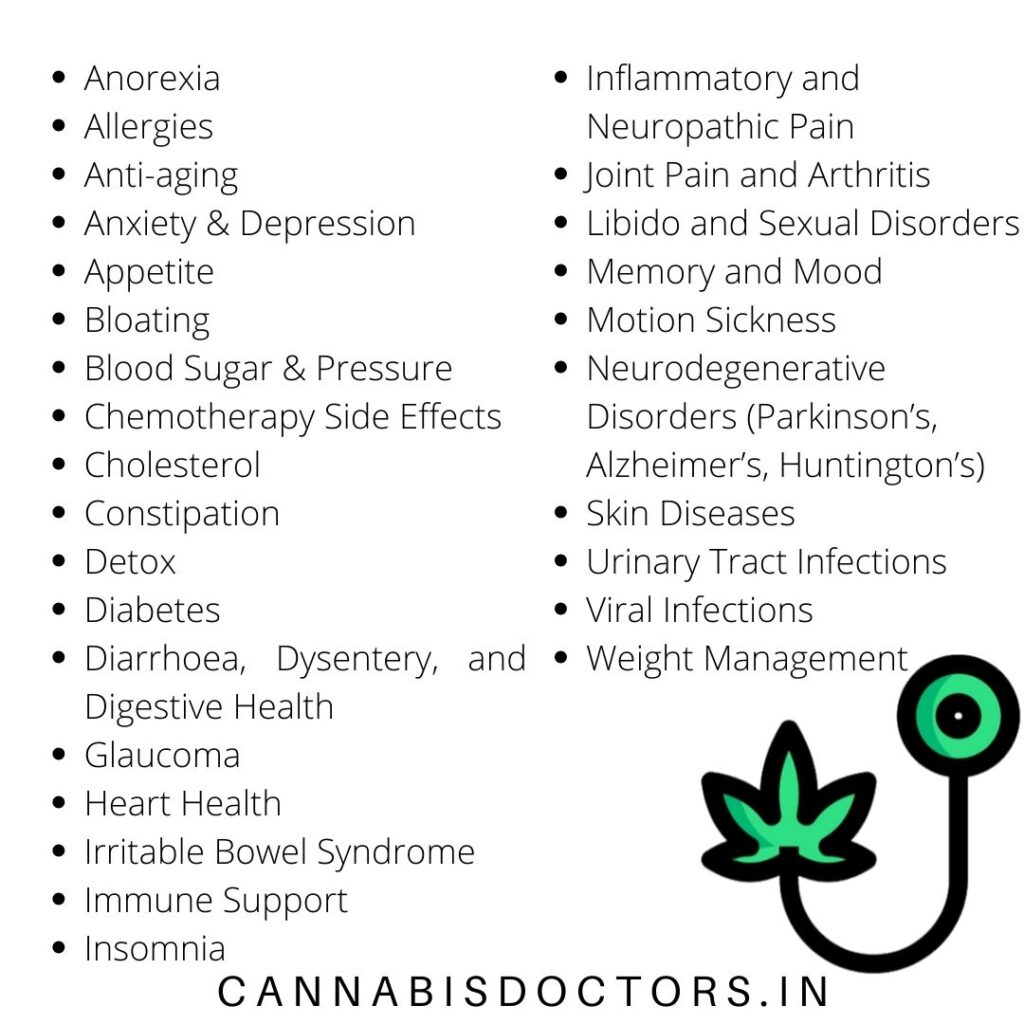 How to get an Ayurvedic or Medical Cannabis Prescription in India?
India is witnessing an increase in the popularity of medical and/or ayurvedic cannabis. Research bodies are dedicating themselves to curate specific cannabis-based formulations that can cater to an extensive list of medical conditions.
This research, popularity, and excitement is, however, new. Confusion and controversy are bound to accompany cannabis everywhere. Consequently, the process of getting a medical cannabis prescription can get intimidating.
But with the right information and guidance, the process becomes quick, easy, and hassle-free. Once you've understood the regulations around the use of Ayurvedic (Vijaya) Cannabis extracts, you can get an online medical cannabis prescription in India by following these ___ steps:
Step 1: Book a Consultation
The first step is to book an appointment with a certified Ayurvedic doctor. Online platforms such as CannabisDoctors offer a pool of qualified Ayurvedic doctors that patients can scan and pick a doctor of their choice.
To book an online medical consultation on CannabisDoctors:
Click on BOOK A QUICK CONSULTATION.
Choose between audio and video consultation.
Select a doctor of your choice.
Click Continue.
Pick a Date and Time for your consultation. The platform currently allows you to book consultations at least 24 hours prior.
Fill in the details of the patient (including name, email, phone number, sex, age, weight, height, medical condition, and cannabis experience.)
Proceed to payment.
Once the payment is complete, you will receive an email confirmation with the date, time, and method of consultation.
Step 2: Gather all the Necessary Medical Documentation
In addition to the basic details, you fill up at the time of booking the appointment, collect all the previous diagnosis and test reports. It is always an added benefit to note down all the questions you have about the use of cannabis as a medicine. Make a list of things you want to discuss with your doctor and the doubts you want to clarify.
Step 3: Talk to Your Doctor Honestly
The medical use of cannabis is a sensitive topic. It is important that the patient, or the patient's guardian, be absolutely frank with the doctor. Be 100% honest about the severity of your medical condition, the discomfort it brings to you, and the relief you're looking for.
A doctor will prescribe a cannabis medicine based on what the patient tells him/her. Therefore, patients should ensure that they have an open conversation with the doctor.
And that's it! After your consultation, the doctor will send an e-copy of the prescription to you. You can present this on the platform you use to buy medical cannabis in India.
What to look for in an Ayurvedic or Medical Cannabis Prescription in India?
Because you will be getting your medical cannabis prescription online, it is important to carefully analyse it for the following information:
Name and Credentials of the Doctor: Virtual medical cannabis prescriptions should clearly mention the name of the practising physician along with the title of his/her degree. This information accounts for the doctor's credibility and should be straightforward and clearly available on the prescription.
Address and Contact Information of the Doctor's Practice Centre: Look for the name, address, and phone number of the clinic or the practice centre where the doctor operates from. This information will help you cross verify the authenticity of the practitioner and also give you an alternate way to contact him/her.
Date and Time of Consultation: The date and time of the consultation help in keeping a record of the progress of the treatment and serves the purpose of background checks.
Name and Diagnosis of the Patient: Your virtual medical cannabis prescription should clearly mention the name of the patient and the diagnosis that has been made by the doctor.
Name of the Medical (Ayurvedic) Cannabis Product prescribed by the doctor: The next thing to be mentioned on the prescription is the medical cannabis product itself. Like a usual medical prescription, it should either mention the name of the cannabis extract (e.g. Vijaya extract) or concentration of cannabis (e.g. 10% cannabis, 2% THC, etc.).
In some cases, the doctor may also prescribe a particular product (e.g. Ananta Peppermint 3%).
Method of Administration: There are several ways to consume cannabis, especially for medicinal uses. An ideal medical cannabis prescription should mention the method of administration i.e. how is the extract to be taken. E.g. topical application, sublingual application, or addition in food.
This may also include additional instructions such as before bedtime, on empty stomach, etc.
Dosage: Dosage refers to the frequency of use of a medicine. On a prescription, it may look like twice a day, 50mg a day, etc.
Additional Notes: Depending on the condition of the patient, the doctor may prescribe some additional diet or lifestyle changes with the medicine. These should also be clearly mentioned in the prescription.
Follow-up Date: Adopting medical cannabis is a long, persistent process. A medical cannabis consultation should not be a stand-alone event. The prescription should clearly mention a follow-up date. E.g. follow up after 60 days or next consultation on dd/mm/yy.
Things to Consider While Booking An Online Medical Consultation for Cannabis
Everyone's cannabis journey is different: It is possible that a cannabis product that works well for one person may not work quite effectively for another. The prescription of medical cannabis depends on several factors such as the severity and nature of the condition, age, body weight, and genetics of the patient.

It is important to keep an open mind and be accepting of differences in opinion. The doctor may not recommend the product or concentration you have in mind and that should be talked out with the doctor in a clean, respectful way.

If you have a history of using medical cannabis, consulting a new doctor may change the course of your medicine. The most important thing is to be completely honest with the doctor–about your condition, your expectations, and your concerns.

A consultation does not guarantee a prescription
The confirmation of an online consultation does not necessarily mean that you will receive a medical cannabis prescription at the end of the session. It is possible that after a thorough evaluation, the doctor may choose an alternative course of healing for you.

Be patient with the consultant and express your concerns in a respectful manner.
There is more than one way to consume medical cannabis
There are at least 5 different ways in which medical or ayurvedic cannabis extracts can be consumed. This is important to remember because sometimes the doctor may prescribe a method of administration that you're new to or aren't completely familiar with.

Read and learn about the different methods of taking cannabis and reach out to the doctor or the platform facilitating the online consultation for any queries.
The prescription may take time to reach you
Even though technology seems to speed everything up, some things still take time. A virtual medical cannabis prescription is either generated digitally or needs to be scanned before it can be forwarded to the patient.

It is also possible that the doctor may have a tight schedule and might not have the capacity to mail the prescription to you right away. For instance, some of the doctors on CannabisDoctors are sometimes busy on COVID duties. In that case, be patient. Give the doctor, or the platform, at least 90 minutes to get the prescription to you.
Doctors can only help you if you let them
A doctor can know the nature of the medical condition to the extent you allow them. This is all the more true in the case of virtual consultations where body language and close physical examination takes a back seat.

Talk to the doctor honestly, being completely upfront about your questions and concerns. The more detail the doctor has, the more comprehensively he/she can help you.
Medical Cannabis FAQs
What is medical cannabis?

Medical cannabis refers to the use of chemical compounds in the cannabis plant for medicinal purposes. Medical cannabis products help provide relief from a wide range of illnesses such as acute, chronic, and neuropathic pain, psychological and neurological disorders, illnesses caused by hormonal imbalances, skin and neurodegenerative problems as well as chemotherapy side effects.

What is ayurvedic cannabis?

Ayurvedic cannabis uses cannabis leaf extracts in either classical or proprietary formulations for the purpose of relief from medical conditions. It bases itself on Ayurveda, India's ancient system of health and medicine.

What are the ways in which I can take medical cannabis?

There are at least 3 different ways for patients to use medical cannabis. In India, the most common medical cannabis products are topicals (for use by external application; e.g. balams, creams), edibles (for use by direct consumption; e.g. chocolates, modak), oils and tinctures (for sublingual consumption).

How is medical cannabis different from ayurvedic cannabis?

Medical cannabis is a broader term referring to the use of a cannabis plant for treating or curing a medical problem. This may come from any part of the plant such as buds, flowers, leaves, or stalks, and may be consumed raw in dried form.

Ayurvedic cannabis refers to cannabis leaf formulations. That is, only the leaf of the cannabis plant is used (often in combination with other healing herbs) to create a medicinal formula. In India, the most common ayurvedic cannabis extract is Vijaya extract. Ingestible Vijaya extracts can be bought only by presenting a valid prescription.

A certified ayurvedic doctor prescribes Vijaya extract for medicinal use in India.

Is medical (ayurvedic) cannabis legal in India?

Ayurvedic Cannabis (Vijaya leaf) extracts are a Schedule-E1 drug, regulated by the Excise Department and the Ministry of AYUSH in India. Ayurvedic Cannabis is legal but regulated in India. To prevent the misuse or abuse, Vijaya extracts can be bought only by presenting a valid doctor's prescription.

Who writes a prescription for medical cannabis in India?

A certified Ayurvedic doctor prescribes Ayurvedic Cannabis (Vijaya leaf extract) for medical use in India.

How long is a medical cannabis prescription valid for?

The validity of a medical cannabis prescription is mentioned on the prescription itself. Depending on the severity and nature of the medical condition, the doctor can prescribe Ayurvedic cannabis for different amounts of time before a follow up or prescription renewal.

Where can I buy medical cannabis in India?

The safest and most effective way to buy medical (ayurvedic) cannabis or Vijaya leaf extracts in India is online through dedicated platforms. Patients can use online medical consultation platforms such as CannabisDoctors to schedule a cannabis consultation with a doctor. Once they have the prescription, they can buy certified medical cannabis products on online platforms such as ItsHemp.

What conditions make me eligible to get medical cannabis (in India)?

Doctors can administer medical cannabis in India for issues and illnesses related to Anorexia, Allergies, Anti-aging, Anxiety & Depression, Appetite, Bloating, Blood Sugar & Pressure, Chemotherapy Side Effects, Cholesterol, Constipation, Detox, Diabetes, Diaarhoea, Dysentery, and Digestive Health, Glaucoma, Heart Health, Irritable Bowel Syndrome, Immune Support, Insomnia, Inflammatory and Neuropathic Pain, Joint Pain & Arthritis, Libido and Sexual Disorders, Memory and Mood, Motion Sickness, Neurodegenrative Disorders (Parkinson's, Alzheimer's, etc.), Skin Diseases, Urinary Tract Infection, Viral Infections, and Weight Management.

How can I find a registered/certified ayurvedic cannabis doctor in India?

Online platforms such as CannabisDoctors collate qualified Ayurvedic doctors from all over India on a single platform. Patients can browse through doctor profiles and choose the consultant of their choice.

What to do if the prescribed medical cannabis product is not working for me?

Reschedule a consultation with the cannabis doctor who prescribed you the medicine. Talk honestly about the issues you're facing. Alternatively, you can schedule a consultation with a different Ayurvedic doctor in India to talk about medical cannabis.