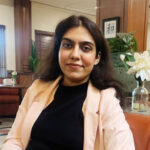 Dr. Mariya Parvez
Dr Mariya Parvez holds an experience of more than 4 years in the field of Ayurveda. She has graduated from Chaudhary Brahm Prakash Ayurved Charak Sansthan, a renowned college governed by Govt. of NCT Delhi.
She has worked at Prakash Hospital. She has also worked with Kapiva Ayurveda as a consultant. She's worked with Dr Shikha Sharma's Nutrihealth and in Ayurvedic Nutrition and dietetics for more than 2 years.
She's a certified medical cannabis practitioner.
Currently, she's running a Medical Cannabis-based Treatment Clinic known as Ananta Vijaya Wellness Clinic with Ayurvedic doctors and dieticians.
The team focuses on presenting solutions for the management of lifestyle disorders with the help of Ayurveda, Panchkarma, Raktamokshana, and Diet.
She owns a company called Lush Ayurveda which focuses on diet management on the basis of Ayurvedic sciences
Expertise:
Pain Management
Joint Disorders
Mental Health
Neurology Focal Disorders
Gynaecological Disorders
Gastrointestinal Problems
Consult Dr. Mariya Parvez