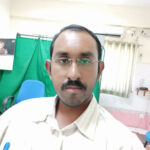 Dr. Guttikonda SivaRam
Neurological ailments
Expertise
Dr. SivaRam is an Ayurvedic doctor with 11 years of experience in the fields of herbo-mineral medicines preparation and Pancha-karma.
He has also worked with the Central Council of Research in Ayurvedic Sciences for 3 years. Dr. Siva has served as the senior consultant for Pancha-karma OPD>
His academic laurels are well-illustrated by his contribution to innumerable clinical trials and medical camps in tribal areas.
Dr. Siva is a proud author of 12 scientific articles with 3 focusing primarily on the medicinal benefits of Cannabis.
His prime area of expertise is Neurological ailments.
Consult Dr. Guttikonda SivaRam