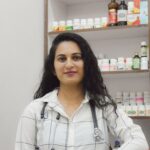 Dr. Abha Chaudhary
The lead practitioner at Sparsh Ayurveda, Dr Abha has a Bachelors degree in Ayurvedic Medical Science and a Post Graduate degree in Panchkarma Treatment.
She completed her higher education at the prestigious Guru Ravidas University Hoshiarpur, Punjab.
Dr Abha Chaudhary specialises in Panchkarma Treatment as her chief methodology in the treatment of various ailments. She is an avid Herbalist and focuses on natural alternatives to western medicine.
Consult Dr Abha Chaudhary